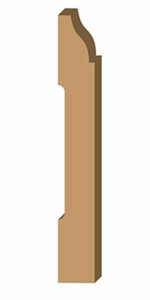 One of the most popular styles available! This base board is the 3 ¼ inches high by 3/8 inch thick.
We offer this base in 3 different wood types, Oak, Poplar and Maple.
Choose from 26 standard Stains/Paints or just order it with no finish (raw)!  Every end or every piece will be machine coped for professional and easy corners every time.
This base style is available in three different sizes (2 ¾" x 7/16″, 2 ¾" x 3/8″ and 3¼" x 3/8″).
Get the ProAdvantage with WDI Factory Finished Base boards!